Riding through the winter can often be a turn-off for many cyclists but there are plenty of reasons you shouldn't let it deter you, especially if you make the right clothing choices. However rain, wind, snow, ice and salted roads can be extremely tough on your bike. These next few steps are designed to help maintain your bike in top condition throughout the harsh conditions.
Service
Winter riding is tough on your bike so you want to make sure it starts off its cold weather season in the best condition possible. It goes without saying you should give it a really good clean, lube and make sure all the gears are firing efficiently. However, a complete strip and rebuild is the ideal, paying particular attention to unsealed bearings and cables.
Although more expensive, consider fitting sealed cables as they will run smoother for longer. If you don't feel your mechanical skills are up to the task, book it into your local bike shop. It will cost you a bit of money but, when your bike is still going strong while your mates' are starting to creak and misfire, you will know it is money well spent.
If you have any questions on this further or need any recommendations on where to book it in, feel free to fire us over an email and we can help you out. (All contact info can be found on our website www.orbitcycling.com)
Although thought of as unfashionable and ugly by some, mudguards are essential for winter riding. They will keep you and your bike cleaner and drier, help protect it from corrosive salt and will make you a lot more welcome if you ride with a club or group.
Even if your frame hasn't got dedicated drillings for mudguards, there are numerous clip-on versions that will even fit super low clearance racers. They can be a bit fiddly to fit initially, but once on, you will wonder why you ever rode in the winter without them.
Not only will they protect your bike, but also any buddies you may be out cycling with. We've all experienced being out on a wet road and behind someone without mudguards! Not fun when you get a mouthful of whatever was laying on the road!
Feel free to checkout these mudguards!
Protection
If you are giving your bike a complete strip down and service before the winter, also consider applying some protective wax to the frame. You can buy specialist products but plain car wax also does the job fine. It will act as an extra layer of protection against salt, will make cleaning road grime off easier and give your bike an as new shine. Also, when you clean your bike, finish off with a covering of a silicon based bike spray. Again, this will make dirt and grime far easier to remove.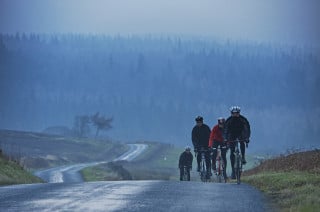 Post-ride
You are cold, wet and tired but, if you just dump your bike in the shed and head for the shower, you can guarantee that the next time you ride your drivetrain will already be rusting. At the very least, rinse the entire bike with clean water to remove dirt and salt, spray water dispersant on the drivetrain, run the chain through a rag and then re-lube the chain. It is only a 5-minute job at the most and your bike will thank you for it.
Tyres
Winter roads aren't the place for super skinny lightweight tyres, choose some robust rubber and opt for tougher inner tubes. You will barely notice the increased weight and you will certainly appreciate not having to fix a flat on a freezing roadside.
Many cheaper winter tyres achieve their durability by using a hard rubber compound which will certainly be tough but can also be like riding on ice. Spend a little more and you will get tyres with anti-puncture features, such as kevlar strips, but don't compromise on the grip. Wider tyres (25c/28c) will give you a plusher ride and are worth considering but check that you have got enough clearance if running mudguards. 
These are all some of the recommendations we would give to any of our customers when it comes to Winter cycling and maintenance. As always, we would love to hear from you if you have any other tips to add to this or if you have any questions, we're always happy to help!